CBD, the non-psychoactive cousin to THC, is found in the oils of hemp plants. Hemp has a long legacy of trade and cultivation in Britain, dating back to 800 BC when it was imported from Asia, grown for its fibers and seeds. Since then, there have been many legal restrictions around CBD, due to its close relation with THC producing cannabis plants.
You may be wondering: are CBD vapes legal in the UK? In this article we discuss the legality of hemp and cannabis products in the UK so you know how to easily access CBD products in the United Kingdom.
Are CBD Vapes Legal in the UK?
In short, the answer is yes! CBD derived from hemp is now considered legal in the UK for retail and use. However, this legality comes with some regulations. Over time the CBD laws have expanded in complex ways as the global CBD market grows exponentially.
To keep up with the science and safety behind CBD products, organizations like the Food Standards Agency (FSA) have stepped in to monitor CBD businesses and affirm they are operating under best practice standards.
Understanding the FSA and their role in CBD regulations
The FSA, a regulatory body responsible for the safety of consumable, novel products in the UK made a significant update to CBD related regulation in February of 2020. They require companies to submit a novel food application to remain compliant and legally distribute CBD products in the UK.
Additionally, they published a comprehensive list of products associated with applications, including those that have not yet fully met the legal requirements to be approved, but show promise in their plans to complete all risk assessments. This includes businesses that have been validated for the risk analysis process, as well as brands that are authorized to produce and distribute CBD.
It's important to note that the FSA only regulates novel food products, meaning other CBD products do not yet fit the criteria to be tested and regulated. CBD products like vapes, cosmetics, or any products making medical claims are not evaluated. This regulatory grey area extends into any products with more than 0.2% THC present in the hemp extract/isolate.
Despite the fact that CBD vapes are fully legal, they have yet to be effectively regulated. This means consumers may have to test products at their own risk.
What you need to know about CBD laws in the UK
There are a few things you should know about purchasing legal CBD in the UK, before you shop:
Importing CBD Products from Abroad
Some ingredients in CBD products like delta 8 or delta 9 are restricted and may be seized by customs agents. Understanding the list of ingredients prior to purchase can help you avoid any issues. It's best to find products that provide clear test results for their active ingredients and confirm no trace amounts of other controlled substances.
No CBD for UK Pets
Currently the UK does not authorize CBD products for animals. CBD oil is not approved by the Veterinary Medicines Directorate or FSA. Though, it is still possible to find ways to work with your local vet clinic on finding a safe CBD solution for your furry friend.
FSA Advisory for Health Risks
Based on recommendations from the Committee on Toxicity, the FSA suggests that those who are pregnant, breastfeeding, or taking any medications do not consume CBD products. They recommend that healthy adults take no more than 70mg of CBD daily unless advised directly by a medical professional.
CBD Flowers
As of 2023, there is still ambiguity around the legality of CBD flowers, or the fresh bud material of the plant. Currently flowers are not legal for distribution, however we may see an update to this as science offers compelling evidence that CBD flower is safe and does not induce intoxicating effects like THC flowers.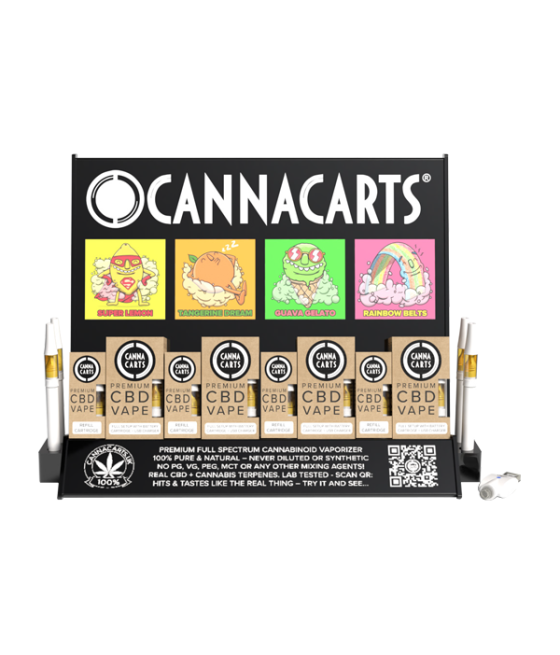 420 POS Display Unit Set - 25 CBD Vapes by Cannacarts
Thrilled to boost your CBD experience? DiscoverCannacarts' 420 POS Display Unit Set with 25 CBD Vapes. What flavors await?